Cryoscopic Osmometer for Studying Cryobiological Fluids
Keywords:
cryoscopic osmometer, cryobiological fluids, cryoprotectants, supercooling
Abstract
The factors affecting the accuracy of temperature measurements in biological fluids in cryoscopic osmometer: heat capacity of temperature gauge, sample mass, integral heat conductivity of the medium and temperature difference between the sample and coolant, were analyzed. The results of analysis were used when designing cryoscopic cell to investigate the liquids with an increased inclination to overcooling. Cryoscopic osmometer with this cell enables the measuring of freezing temperature of such systems with ±0.005°Caccuracy.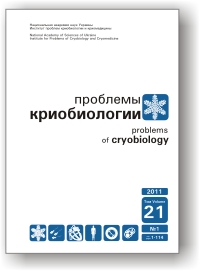 How to Cite
Kuchkov, V. N., & Zinchenko, V. D. (2011). Cryoscopic Osmometer for Studying Cryobiological Fluids. Problems of Cryobiology and Cryomedicine, 21(1), 104-112. Retrieved from http://journal.cryo.org.ua/index.php/probl-cryobiol-cryomed/article/view/160
Section
Cryogenic Equipment
Authors who publish with this journal agree to the following terms:
Authors retain copyright and grant the journal right of first publication with the work simultaneously licensed under a Creative Commons Attribution License that allows others to share the work with an acknowledgement of the work's authorship and initial publication in this journal.
Authors are able to enter into separate, additional contractual arrangements for the non-exclusive distribution of the journal's published version of the work (e.g., post it to an institutional repository or publish it in a book), with an acknowledgement of its initial publication in this journal.
Authors are permitted and encouraged to post their work online (e.g., in institutional repositories or on their website) prior to and during the submission process, as it can lead to productive exchanges, as well as earlier and greater citation of published work (See The Effect of Open Access).