Influence of Ways to Thaw Bull Sperm on Its Quality
Keywords:
semen, thawing, temperature, sequins, lined granules
Abstract
Probl Cryobiol Cryomed 2021; 31(3): 277–282
References
Ahmad M, Ahmad N, Riaz A, et al. Sperm survival kinetics in diff erent types of bull semen: progressive motility, plasma membrane integrity, acrosomal status and reactive oxygen species generation. Reprod Fertil Dev. 2014; 27 (5): 784-93.
Barbas JP, Mascarenhas RD. Cryopreservation of domestic animal sperm cells. Cell Tissue Bank. 2009; 10 (1): 49-62.
Curry MR. Cryopreservation of semen from domestic livestock. Rev Reprod. 2000; 5 (1): 46-52
Gaillard C, Kupferschmied H. Thawing time and nonreturn rate of bovine semen frozen in fi ne French straws. Theriogenology. 1982; 18 (4): 487-95.
Ostashko FI, Pavlenko MP, Kuznetsov GN, et al. [Kharkiv technology of aseptic collection and cryopreservation of sperm from breeding bulls. Methodical recommendations]. Kharkiv; 1990. 47 p. Russian.
Pesch S, Hoffmann BJ. Cryopreservation of spermatozoa in veterinary medicine. J Reproduktionsmed Endokrinol. 2007; 4 (2): 101-5.
Tuli RK, Schmidt-Baulain R, Holtz W. Influence of thawing temperature on viability and release of glutamic oxaloacetic transaminase in frozen semen from Boer goats. Animal Reproduction Science. 1991; 25 (2): 125-31.
Yeste M. Sperm cryopreservation update: Cryodamage, markers, and factors affecting the sperm freezability in pigs. Theriogenology. 2016; 85 (1): 47-64.
Yılmaz E, Ak K, Baran A. Effect of different thawing time and high temperature on frozen thawed bull semen traits. J Anim Vet Adv. 2019; 18 (7): 239-45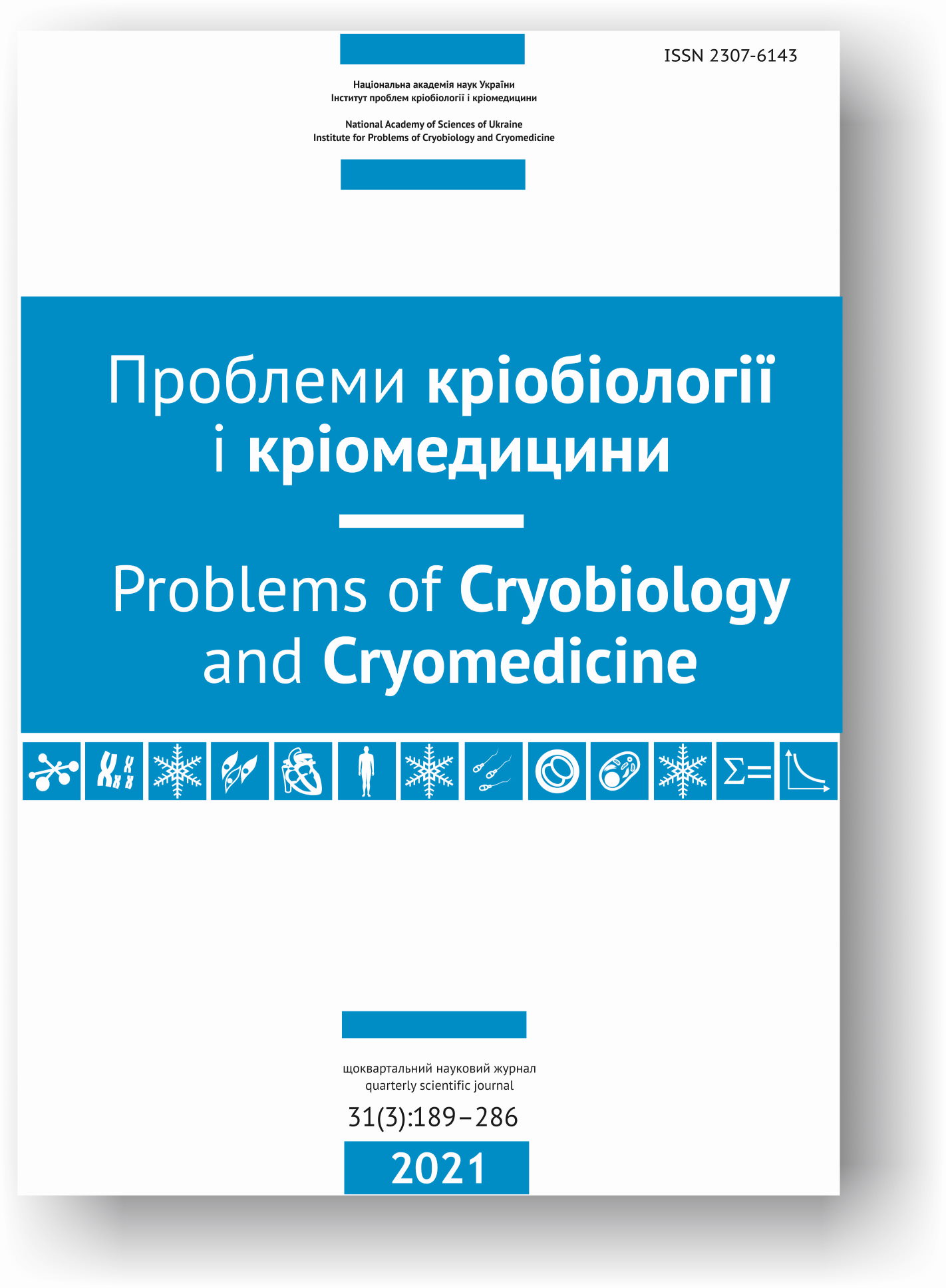 Downloads
How to Cite
Shakhova , Y., Paliy, A., Paliy, A., Shkromada , O., Musiienko , Y., & Bondarenko, I. (2021). Influence of Ways to Thaw Bull Sperm on Its Quality. Problems of Cryobiology and Cryomedicine, 31(3), 277–282. https://doi.org/10.15407/cryo31.03.277
Section
Short communications
License
This work is licensed under a Creative Commons Attribution 4.0 International License.
Authors who publish with this journal agree to the following terms:
Authors retain copyright and grant the journal right of first publication with the work simultaneously licensed under a Creative Commons Attribution License that allows others to share the work with an acknowledgement of the work's authorship and initial publication in this journal.
Authors are able to enter into separate, additional contractual arrangements for the non-exclusive distribution of the journal's published version of the work (e.g., post it to an institutional repository or publish it in a book), with an acknowledgement of its initial publication in this journal.
Authors are permitted and encouraged to post their work online (e.g., in institutional repositories or on their website) prior to and during the submission process, as it can lead to productive exchanges, as well as earlier and greater citation of published work (See The Effect of Open Access).