Effect of Rape Seeds' Pre-sowing Treatment with Complex Cryoprotectant-Based Agrochemical Preparations on Plant Winter Hardiness and Yielding Capacity
G. Yu. Dyakonenko

Institute for Problems of Cryobiology and Cryomedicine of the National Academy of Sciences of Ukraine, Kharkov

Yu. S. Lysak

Institute for Problems of Cryobiology and Cryomedicine of the National Academy of Sciences of Ukraine, Kharkov

A. M. Kompaniets

Institute for Problems of Cryobiology and Cryomedicine of the National Academy of Sciences of Ukraine, Kharkov
Keywords:
rape, frost hardiness, winter hardiness, soluble carbohydrates, yielding capacity, cryoprotectant, agrochemical preparations
Abstract
The effect of pre-sowing treatment of winter rape seeds with PEO-1500 cryoprotectant, Jupiter and Dorsay preparations on their frost and winter hardiness and yielding capacity has been studied. It was found that seed treatment with these preparations increased the seed capacity to germinate under lowered temperature (5–10°C), and also plant frost hardiness and content of soluble carbohydrates. A correlation between winter hardiness level of winter rape and content of soluble carbohydrates has been established.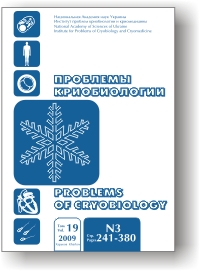 How to Cite
Dyakonenko, G. Y., Lysak, Y. S., & Kompaniets, A. M. (2009). Effect of Rape Seeds' Pre-sowing Treatment with Complex Cryoprotectant-Based Agrochemical Preparations on Plant Winter Hardiness and Yielding Capacity. Problems of Cryobiology and Cryomedicine, 19(3), 283-289. Retrieved from http://journal.cryo.org.ua/index.php/probl-cryobiol-cryomed/article/view/252
Section
Theoretical and Experimental Cryobiology
Authors who publish with this journal agree to the following terms:
Authors retain copyright and grant the journal right of first publication with the work simultaneously licensed under a Creative Commons Attribution License that allows others to share the work with an acknowledgement of the work's authorship and initial publication in this journal.
Authors are able to enter into separate, additional contractual arrangements for the non-exclusive distribution of the journal's published version of the work (e.g., post it to an institutional repository or publish it in a book), with an acknowledgement of its initial publication in this journal.
Authors are permitted and encouraged to post their work online (e.g., in institutional repositories or on their website) prior to and during the submission process, as it can lead to productive exchanges, as well as earlier and greater citation of published work (See The Effect of Open Access).