Study of Low-Molecular Effect of Cryoprotectants on Mitochondria Respiratory Chain by Spin Probe EPR
O. A. Nardid

Institute for Problems of Cryobiology and Cryomedicine of the National Academy of Sciences of Ukraine, Kharkov
Keywords:
cryoprotectants, mitochondria, electron paramagnetic resonance, reduction of spin probe, inhibition of respiratory chain
Abstract
Effect of low molecular cryoprotectants, glycerol, 1,2-propane diol and dimethylsulfoxide with concentrations up to 30% on activity of respiratory chain of rat liver mitochondria membranes has been studied by spin probe EPR. It has been established that lowmolecular cryoprotective substances induce inhibition of isolated organelles' respiratory chain. It has been shown that inhibition rate of spin probe reduction and mitochondria respiration as a part of hepatocytes is lower at the same concentrations, if compared with isolated mitochondria.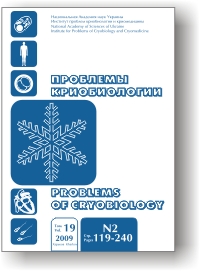 How to Cite
Nardid, O. A. (2009). Study of Low-Molecular Effect of Cryoprotectants on Mitochondria Respiratory Chain by Spin Probe EPR. Problems of Cryobiology and Cryomedicine, 19(2), 177-185. Retrieved from http://journal.cryo.org.ua/index.php/probl-cryobiol-cryomed/article/view/272
Section
Theoretical and Experimental Cryobiology
Authors who publish with this journal agree to the following terms:
Authors retain copyright and grant the journal right of first publication with the work simultaneously licensed under a Creative Commons Attribution License that allows others to share the work with an acknowledgement of the work's authorship and initial publication in this journal.
Authors are able to enter into separate, additional contractual arrangements for the non-exclusive distribution of the journal's published version of the work (e.g., post it to an institutional repository or publish it in a book), with an acknowledgement of its initial publication in this journal.
Authors are permitted and encouraged to post their work online (e.g., in institutional repositories or on their website) prior to and during the submission process, as it can lead to productive exchanges, as well as earlier and greater citation of published work (See The Effect of Open Access).